Hotel Assault Victim: He Should be going for a Psych Evaluation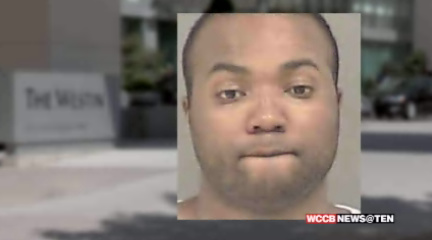 [gtxvideo vid="R3HGQGr9″ playlist="" pid="Bbt3TRDe" thumb="http://player.gtxcel.com/thumbs/R3HGQGr9.jpg" vtitle="westin attack"]
CHARLOTTE, NC — A man is out of jail after attacking three women at the Westin in Uptown Charlotte Wednesday.
The victims say Albert Miles herded crowds through the hotel only to beat women passing him.
"I felt like if I didn't have the injuries to prove it happened, I would have probably thought I dreamed it, because it's just that weird," said one victim.
The three women in this case asked that we hide their identities because their suspected attacker is out of jail.
They all have the same story.
"He punched me twice in the face," said victim two. "Then, he pushed me against a wall, and then he punched me again in the face. All this time, I was screaming, I was asking why he was doing it. Was he crazy?"
Her face is bruised, and her foot is potentially fractured.
Victim three has a broken nose.
"As I came close to him, he just wound up and hit me in the face," said victim three. "I fell against the stairs, and, you know, blood came rushing out all over my face."
It didn't start out so violent. Someone pulled a fire alarm at 2:15 Wednesday morning. Victims say at first, Miles was pounding on doors, warning people to get out and leading them through stairwells.
"He kind of went from being a helpful, seemingly helpful, person encouraging people to get out of a fire, to these violent outbursts," said victim one.
She finally got out of the building when he came from behind and punched her, knocking her to the ground.
A man in the crowd chased Miles to the Westin parking garage where he tore windshield wipers off at least two cars before police caught up to him.
"He should be going for a psych evaluation," said the victim two. "Someone should figure out why he's doing what he's doing."
She's hesitant to travel to the Queen City again, calling on Westin to add more security.
Westin did not return calls to comment on current security procedures.
Other victims say Westin did all it could in a random attack situation.
"Unfortunately, [it] changes your perception of everyday people," said victim one.