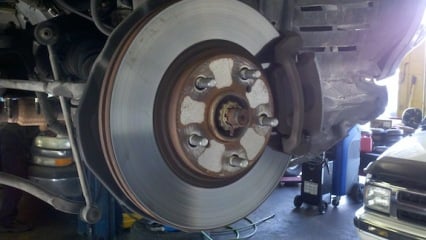 Brakes are an essential part of your vehicle, as they're the only thing stopping you once you hit that acceleration. If you want to have peace-of-mind every time you hit the road, it's important to maintain your brakes. This is made easy when you visit our Toyota Service Center in Charlotte for brake service!
Do you need brake service in Charlotte?

How do you know when you should bring your vehicle to our auto service center for brake service in Charlotte? If you're like most people, you may not know too much about your vehicle's brake system. This is why we're sharing some warning signs you can look out for that may indicate your vehicle is in need of auto service in Charlotte. 

Warning light: Most vehicles have a warning dashboard light that appears when there's something wrong with your brake system. This light could indicate a number of different problems, which is why you should have the problem diagnosed by a professional at our Toyota Service Center.

Unusual noises: If you hear a loud squealing when putting pressure on your brakes, it means you need brake service. Most vehicles have an indicator in the braking system that makes an audible sound when your brake pads need to be replaced. If you hear a grinding sound, your brake pads may be completely worn, which can be dangerous and cause further damage to your rotors. This problem should be taken care of immediately!

Worn brake pads: Instead of waiting to hear your brake pads, you can also visually check them for wear. When checking your brake pads, they should be at least one quarter of an inch thick. If not, it's a good idea to replace them as soon as possible. If you aren't sure how to check this yourself, take your vehicle to our auto service center and let our professionals take a look.

Brake responsiveness: The way your brakes respond can tell you a lot about them. If you have to press further down on your brake pedal when slowing or stopping, this could mean there is an air or fluid leak. Also, if your brakes pull to one side or another, it could indicate a problem with your brake fluid or uneven wear of the brake lining. Other brake issues can be detected by a vibrating or pulsing response, which could mean you have warped rotors. All of these cases could be fixed with brake service in Charlotte!

Get quality brake service at our Toyota Service Center in Charlotte!

It's common to need your brakes replaced every 20,000 to 30,000 miles. When you need brake service, all you have to do is visit our Toyota Service Center and we'll do all of the work for you. We can also take care of any other Charlotte auto service you may need while you're here including oil change, battery replacement, car tune up and more!
Visit our auto service center today at 13429 Statesville Rd. You can call us in advance to schedule an appointment at (888) 378-1214. Don't forget to ask about our fantastic auto service specials.