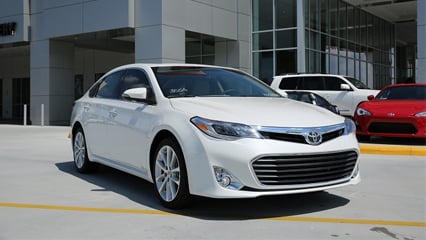 A lot of new Toyota in N Charlotte have been arriving at our dealership recently, and many of them are 2014 model-years! The 2014 Toyota Avalon has yet to make an appearance, and we can't wait for it come to Toyota of N Charlotte. Why? Because it's already getting rave reviews!
KBB.com takes a close look at the 2014 Toyota Avalon
The new Toyota Avalon in N Charlotte has been praised in the past for being a top luxury vehicle, especially since it got a new look for 2013. When it comes to the 2014 model-year that will be available before you know it, KBB.com has quite a few positive things to say about it. Here are some of the preliminary ratings this vehicle has already achieved: 
Consumer Rating of 8.6 out 10

Rated ninth out of fifteen in fuel economy


Claimed spot number seven out of fifteen in horsepower
The 2014 model-year is sure to deliver some stellar and enjoyable features. However, if you're interested in experiencing this new Toyota today, the 2013 model-year is on our lot right now for you to take out for a test-drive! Here are some of the different elements you have to look forward to enjoying!

The interior of the 2013 Toyota Avalon has luxury and sophistication written all over it. With leather-trimmed seats, sophisticated French stitching, and materials that are supple and soft to the touch, the cabin of this new Toyota is meant to put everyone at ease automatically. 

When it comes to performance, this four-door sedan can easily hold its own. The paddle shifters that come in certain advanced trim-levels give drivers the option of driving this car as if it had a manual transmission! The 268 horsepower that its engine can produce is another feature that's incredibly enjoyable. 


Some of the latest high-tech safety features can be found in this Toyota, too. Between the Dynamic Radar Cruise Control function, backup camera, Blind Spot Monitor and more, you're ready for practically any scenario you might encounter on the road! 
These are just a few of the different elements that come in the current model-year of this Toyota. We can't wait to see what other features will be available when the 2014 model-year becomes available! 
Take care of your budget with a new Toyota in N Charlotte!
If you love the luxury and sophistication that this new car can deliver, then why not opt to take it home today? With the option to buy or a lease a new car at our Toyota dealership, you can easily get the vehicle you want without having to completely rearrange your budget. 
Come by and visit us at 13429 Statesville Road to take this luxury four-door sedan out for a spin today! You can also call our Internet Sales Team at (888) 883-3797. Remember, we're open until 10:00 pm seven days a week so there's always a good time to contact us!