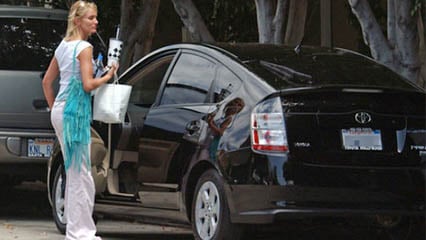 Did you know that more than one famous celebrity has gotten behind the wheel of the Toyota Prius? In fact, the list of celebrities who love this new Toyota hybrid is far from short! Some well-known stars who have been seen driving this hybrid car around include: 

Cameron Diaz

Sarah Jessica Parker

Adrian Grenier

Kate Bosworth

Larry David

Gwyneth Paltrow

Miley Cyrus

Rachel Bilson

Leonardo Dicaprio

Jessica Alba

Claudia Schiffer

Owen Wilson

Orlando Bloom

Emily Blunt

Julia Roberts

Dustin Hoffman


These are only a few of the top stars that have been known to drive the Toyota Prius around town, too. If you're wondering why this vehicle has become such a popular choice for so many, it's not a very well-kept secret. There are a lot of features that this hybrid vehicle has to offer, and you can check them all out for yourself in person when you visit our N Charlotte Toyota dealership! 
N Charlotte Toyota Prius comes with high-tech options

The Toyota Prius in N Charlotte is super popular for how eco-friendly it is. After all, it does get 50 mpg combined. However, there are a lot of other high-tech and innovative features that come with it that might not be as well known. 

Dynamic Radar Cruise Control: Most cars that are available today come with cruise control as a standard feature. However, the Dynamic Radar Cruise Control is a unique and high-tech option that's available in this N Charlotte Toyota hybrid to take cruise control to a whole new level! This system can automatically adjust the car's speed to make sure a certain preset distance is maintained. 

Solar Roof: You've probably heard of a sunroof before, but have you heard of a Solar Roof? This feature offered in this new Toyota has special solar panels in it that help power a fan to circulate air in the cabin. This helps keep the interior temperature cool, which means getting into your car after you've been gone a while is a much more enjoyable experience!

Driving Modes: Along with being incredibly fuel-efficient, this new Toyota also features three driving modes so drivers can easily customize their driving experience. With the options of ECO, EV, and POWER to pick and choose from, it's easy to make the most of fuel-efficiency or get an extra boost when driving around town. 

Pick out the Toyota hybrid in N Charlotte that works for you!

Do you want the star treatment while driving? You don't have to get an overly expensive car to get what you want. Stop by our location at 13429 Statesville Road in Huntersville to check out the vehicle celebrates love to drive – the Toyota Prius! With four different trim-levels to choose from , it's easy to get the style you want and all the features you crave. Have a question? Give us a call at (888) 883-3797. Our Internet Sales Team is here to answer any questions you may have! You can also get up an appointment to meet with a Sale Specialist and get your answers in person!