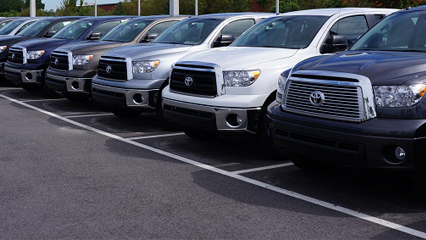 Are you thinking of taking home a truck soon? It can be hard to figure out which new Toyota near Charlotte is best-suited to your personal preferences and driving needs. Our N Charlotte Toyota dealership is here to try to make it as easy possible, though! 
Whether you're thinking of taking home an all-new 2014 Toyota Tundra (there are FIVE different trim-levels to choose from) or the Toyota Tacoma (which happens to be the best-selling compact pickup truck in America), you're to find what you need when you come visit us! 
How to decide if a N Charlotte Toyota truck is the right choice
There are a lot of different factors to consider if you're in the market for a new car. With parts such as style, capabilities, fuel-efficiency and more to think about, narrowing down which ride is best for you can sometimes seem to be a little bit challenging. If you're on the fence about whether or not a truck is the right choice, here are some factors worth considering that can help you figure it out! 
Do you really need a truck? 
Sometimes drivers are tempted to take home a tough vehicle like a truck because they need to tow heavy cargo and think that a truck is the only way to do it. That's not always the case, though! Did you know that many SUVs and even some four-door sedans are able to handle different tow loads? 
What kind of driving experience do you want?
Trucks like the new Toyota Tacoma and new Toyota Tundra in N Charlotte are often praised for how much they can handle. Whether it's going off-road or hauling lots of gear in one trip, trucks seem to be able to take on practically anything. However, it's important to keep in mind that trucks are designed very different than cars. 
Since they're designed to take on tough and rough tasks and terrains, the driving experience is more rough and bouncy compared to most cars. This isn't a problem – and some drivers love it! It is something to think about though if you prefer to have a more smooth travelling experience. 
Which is better: compact, full-size, or heavy-duty?
It's also important to keep in mind that there are a lot of different options to consider if your heart is set on taking home a new Toyota truck in N Charlotte. For starters, do you want a compact or full-size truck? Compact trucks are an excellent option for drivers who want to haul and tow smaller loads. It is possible to customize your compact pickup truck with additional new Toyota truck packages, though, if you're looking for it come with certain features. 
Full-size trucks are best for someone who wants lots of power and lots of interior space. Full-size pickup trucks are loved for their comfortable cabins and their ability to tow around 10,000 pounds! It's rare for a full-size truck to not get the job done, but sometimes a heavy duty truck is needed. These trucks can take on a tow load of about 24,000 pounds, but they're understandably more expensive on the lot and at the gas pump. 
Test-drive a new Toyota truck in N Charlotte today!
Think that a new Toyota truck in N Charlotte is the best option for your driving needs? Come visit us at 13429 Statesville Road in Huntersville to take one out on a test-drive, and to decide which one you want to drive home in!

Google