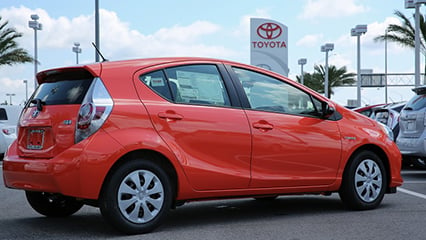 The new Toyota Prius c in N Charlotte is a pretty popular vehicle. Even though it's a new Toyota hybrid, it has a sporty look and comes with some sporty elements that make it a favored choice amongst drivers who want access to an eco-friendly car, but are interested in having a vehicle style that's different than the traditional hatchback look. Fans of this particular model might be interested to learn that it's possible more changes and different designs might be available in the near future. Our N Charlotte Toyota dealership has the scoop! 
Which new Toyota Prius c would you drive?
Four different concepts of this Toyota hybrid were recently revealed at the Tokyo Auto Show, and we're eager to find out if any of these concepts will be produced and made available to the public. What new ideas were shown? 

Aqua Air: The Aqua Air concept car features a new style that's easy to spot because it's a convertible! Along with this obvious new feature, this particular concept of the new Toyota Prius c in N Charlotte would also come with aluminum-finish mirror caps, LED lighting in the front and rear, and even some alloy wheels! 

Aqua Cross: This particular concept is another non-traditional idea. It actually features some crossover elements that include an increase in the hybrid's height! 

Aqua G's: This new Toyota hybrid concept continues with the sporty theme of this vehicle, but would come with more obvious sporty elements like a new body kit that features a lower look, and even checkered flag decals.


Premi Aqua: For drivers who want a little bit more luxury to go with the sporty look of this new Toyota hybrid, they'll be pleased with this concept. It has luxurious elements like a leather interior.
While no official plans have been released yet as to whether or not these vehicles will be made available for the general public, we're excited that the Toyota Prius c in N Charlotte is still available for drivers to enjoy! 
Get to know the new Toyota Prius c in N Charlotte
This eco-friendly Toyota has a lot to offer drivers and passengers. Even though it might be a little bit smaller – given its sporty design – it still comes with many high-tech and comfort features for all to enjoy. With the Bluetooth technology, the Toyota Entune System, a USB port that has iPod connection capabilities and more, no one should be lacking in entertainment options while on the road! This hybrid car also boasts some of the best gas mileage out of any non-electric vehicle on the market right now – around 53/46 mpg! 
Want to get a closer look at this hybrid today? Not a problem! Just give our Internet Sales Team a call at (888) 883-3797 to get more information and to set up an appointment. You can also just swing by and visit us whenever you have a chance. We're open until 10:00 pm every day of the week and are easy to get to – just take I-77 to our location at 13429 Statesville Road! 
Return Home