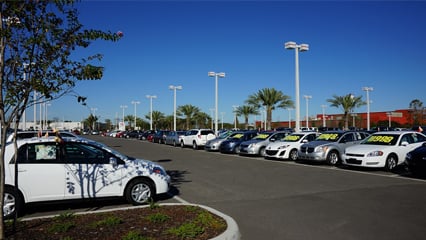 Charlotte used cars are easy to find, but locating one that's best for your budget and meets your personal preferences can sometimes become a challenge. Edmunds.com recently put a list together of the best pre-owned cars for 2013, and you can easily find more than one option that they praised at our N Charlotte Toyota dealership! 
Pick out a used car that works for you in no time
Whether you're looking for a luxury vehicle or a dependable and spacious ride, we're able to help you find one that meets these criteria and more! Take a look at some of the used Toyota in Charlotte that Edmunds recommends. 
Toyota Avalon: Do you want luxury for a budget-friendly price? Check out the used Toyota Avalon, then! This used car is praised for how spacious its interior is, and also its sophisticated look. Who says that you can't have access to the best vehicle available for an affordable price? With this used Toyota, it's easy to achieve. 

Toyota Highlander: Of course, if space is more of a priority versus luxury and sophistication then a stylish SUV may be what you need. The used Toyota Highlander is one option that can easily meet these preferences and more. With the ability to tow cargo and also seat at least seven people at the same time, there's no reason this pre-owned SUV can't take on whatever plans you have in mind!

Toyota Tacoma: Edmunds was also incredibly impressed with the used Toyota Tacoma! This option – especially the Double Cab – is an excellent choice for families. Since there are so many different trim-levels, bed lengths, and cab styles to choose from, your specific driving needs and preferences should easily be easily be taken care of. If you find yourself driving on the off-beaten path on a regular basis, then the Toyota Tacoma PreRunner trim-level in particular might catch your eye. It's specifically designed with special suspension and two-wheel drive, not to mention a higher ground clearance, so that you can take on the outdoors with ease and confidence. 


Toyota Prius: Of course, it's hard to go wrong with a fuel-efficient and eco-friendly car. The Toyota Prius is one vehicle that needs little introduction. It's already praised as being a popular choice not just locally but around the world! By choosing to buy it pre-owned, you can still have access to the famous hybrid technology that comes with it while also taking care of your budget. 
Find a used car in Charlotte that's ready for the road today!
If you're eager to find a used vehicle that will take care of your budget while also taking care of your style preferences, then why not come visit us today to find one that can do just that? 
We're open until 10:00 pm every day and ready to help you out with whatever you need! Come by and see us at 13429 Statesville Road in Huntersville!