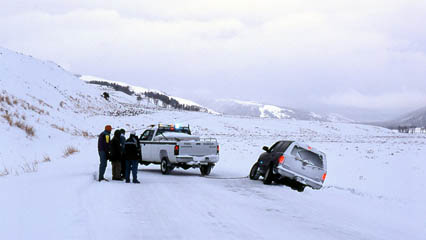 Winter is here, and with it comes some rough weather that can make driving a little bit difficult. At our N Charlotte Toyota dealership, we want to try and make sure that everyone has the tools they need to handle the snowy and icy weather with ease!
When it comes to staying safe on the road, arriving at your destination safely involves more than safe driving practices (though this is an important part of it). Whether you plan to stay close to home during the winter months or have a long road trip in mind, be sure to take a few minutes to make sure your car is ready for the journey ahead with some important auto service in Charlotte!
Charlotte auto service keeps your car running in the winter 
Scheduling an auto service appointment can sometimes be a task that's pushed to the bottom of the list. This doesn't have to be the case, though. Did you know that our Toyota Service Center is open every day and at convenient hours? This means that you don't have to struggle to find a good time to give your car the important care that it needs. Here are some types of auto service in Charlotte you'll want to have addressed sooner rather than later, no matter how far you plan on travelling during the winter season. 
Battery: Unfortunately there's no way to gauge how charged your car battery is until it's too late. However, did you know that one of our trained Toyota technicians can check the battery, charging system, and the belts? You can get some peace of mind by having everything checked out before you head out on your trip. If you don't plan on travelling far any time soon, but still want to make sure everything is in order, feel free to stop by whenever you can! 

Cooling System: It can be tempting to think that the cooling system is only important during the summer or hotter months, but that's not the case. The coolant will help transfer heat away from the engine so that it will continue to run well. Just make sure your car has the proper ratio of coolant and water – about 50/50 is what you need. 

Windshield wipers: Can you remember the last time you checked your windshield wipers? This may not be the first form of regular auto service that comes to mind, but there are different types that are better suited to certain seasons. For winter, you'll want some that have rubber coverings that help keep ice from collecting on the blades. If you're not sure which ones are best for your car, our Toyota techs can help. We sell genuine Toyota parts at our location so getting the materials you need isn't a problem! 
Toyota of N Charlotte helps your car be ready for winter!
Think you might need some help getting your car prepped for this cold season? Just come and visit our Toyota techs to get the assistance you need! Give our Service Department a call today at (888) 378-1214 to set up an appointment!