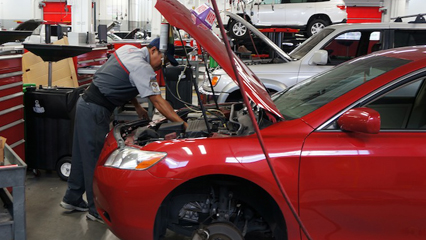 It used to be that once your vehicle hit 100,000 miles, it was worn out. However, vehicles now can last well past this with the right auto service in Charlotte. The key to ensuring longevity of your vehicle is keeping up with your routine auto maintenance throughout its entire lifespan. We make it easy at our Toyota Service Center in Charlotte to keep up with the auto service your vehicle needs! We're also sharing what maintenance you need to consistently bring your vehicle in for and the auto service you may need once it hits 100,000 miles!
Keep your vehicle running smooth with Charlotte auto service

Neglecting your routine auto maintenance in Charlotte can almost guarantee your vehicle won't last – which no one strives for! You can't wait until you've driven 100,000 miles to start taking care of your vehicle – in fact, it wouldn't last this long if you did! The best way to make sure your vehicle lasts well past 100,000 miles is to bring it to our Toyota Service Center regularly and keep up with necessary auto service such as:

Oil change: Getting your oil change in Charlotte is a necessity! Changing your engine's oil is imperative to keep it running smoothly. Typically, your vehicle needs an oil change every 3,000 to 5,000 miles – check your owner's manual for details!

Tire rotation: Your tires should be rotated every time you bring your vehicle in for auto service in Charlotte! This extends the life of your auto tires, so you don't have to worry about spending a ton of money on a new set way too early!


Battery check and replacement: Your battery is an important component of your vehicle, which is why you should have it checked by a professional after you've hit about 35,000 miles and regularly following this! Once it doesn't have enough charge, it should be replaced!
Make your vehicle run like-new after hitting 100,000 miles!

Even if you've stayed up-to-date with all of your routine auto maintenance, there are some more extensive services you may need once you've driven 100,000 miles. By this time, certain parts can get old and worn and need to be replaced. 

If you've gone 100,000 miles with the same set of tires, you're most likely going to need new ones. Don't worry; our Toyota Parts Center has affordable auto tires for sale!

We also suggest you get a car tune up in Charlotte, as this includes the adjustment and replacement of certain parts such as your spark plugs, caps and wires. It'll have your vehicle running smooth again in no time!

Brake service is also necessary once you start racking up miles. Brake pads should be replaced about every 60,000 miles, so if you haven't done it up to this point, it would be a good time!


Visit our Toyota Service Center today for your auto service! We're located at 13429 Statesville Rd. in Huntersville. Call our service center at (888) 378-1214 to set up an appointment or for more information. Don't forget to ask about our money-saving service specials!