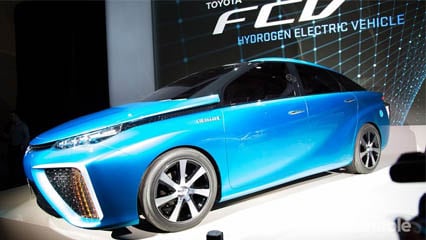 Toyota is always striving to produce vehicles that meet drivers' personal preferences and also take care of the environment at the same time. When the Toyota Prius near Charlotte was introduced to American drivers back around 2000, it quickly became a popular eco-friendly choice! 

Ever since then, more hybrid cars and green options have been arriving at Toyota of N Charlotte. Pretty soon a whole new type of eco-sensitive car might be available, though: one that runs off of electricity WITHOUT needing to be plugged-in!   
Learn more about the new Toyota fuel cell vehicle (FCV)!
What makes this eco-friendly Toyota so exciting? Where to begin! Here are the latest details on what this unique car has to offer: 
No emissions: That's right. Since it doesn't require any form of gasoline to move, this fuel cell vehicle doesn't release anything into the atmosphere besides water vapor! 

Latest technology: The Toyota Prius is unique because it's a parallel hybrid. That means that this new Toyota hybrid in N Charlotte uses an electric motor when travelling at speeds less than 15 mph, but then switches to using gasoline when faster speeds are needed. The Toyota FCV is very different, though. It uses a combination of both hydrogen and the air to create water and electricity, which is then used as a power source for the car! 


Style: Some concept cars that eco-friendly aren't exactly as spacious as an SUV. The Toyota i-Road concept is one example of this. Even though it's incredibly eco-friendly, it's only designed to seat up to two people at most. However, room for passengers shouldn't be a problem with the Toyota FCV. Right now it features the design of a four-door mid-size sedan, which is the same style as the N Charlotte Toyota Camry!
As of now this Toyota concept car is scheduled to go on sale in 2015. Since it boasts an incredible design and is also able to travel 310 miles before needing to re-fuel, we're excited for it to hopefully one day appear at Toyota of N Charlotte so drivers can take it out for a spin!  
Enjoy eco-friendly new Toyota today!
Even though this concept car isn't available right now, there are still many other new Toyota in N Charlotte to enjoy that come with eco-friendly features. Just look at the all-new 2014 Toyota Corolla! The LE Eco trim-level of this car is extremely green. In fact, the 2014 Toyota Corolla LE Eco was just nominated for a Green Car of the Year award! 
If you're searching for an eco-friendly vehicle but aren't which new Toyota might be the best choice for you, we can help! Our team is standing by ready to assist you with any questions and help you get behind the wheel of a green car today. You can always call our Internet Sales Team at (888) 883-3797 to set up an appointment, or you can swing by and visit us in person at 13429 Statesville Road in Huntersville! We can't wait to see you!