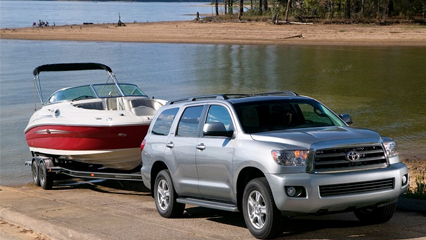 Do you plan on towing any heavy cargo in the near future? If the answer is yes, then you'll want to check out these tips that our N Charlotte Toyota dealership has to share! It's no secret that many new Toyota in N Charlotte can handle a towing assignment. Whether you have an SUV or a tough and durable truck like the Toyota Tundra, there's an incredible variety of vehicles available that can easily move heavy items on a moment's notice. 
If you haven't spent a lot of time behind the wheel of a vehicle while towing a heavy load, though, there are a few tips to keep in mind that can help make the process easier. No matter which new Toyota you're using to move heavy cargo around, these tips can come in handy!
These tips make towing in your new Toyota easy! 
Sometimes towing heavy cargo or a trailer can be a stressful situation. There can be a lot going on at the same time, and it can become easy for drivers to get distracted or panic in different situations. These tips can come in handy to help you stay in control and make every towing trip a lot easier!
Brake Service: Can you remember the last time you had any brake service in N Charlotte taken care of for your truck or SUV? A few days or weeks before towing something on a trip (no matter how short), it's a good idea to have the brakes checked out because this part can undergo a lot of pressure if you're towing a trailer. It's also important not to ride the brakes when you're towing something with your new Toyota. Instead, dab them in soft pulses to minimize the chances of them overheating. 

Spare tire: Most drivers know it's important to have a spare for their main vehicle, but what about your trailer? Make sure you take a few minutes to check the tread on your trailer's tires before taking it out on the road, and be sure you have a spare tire AND wheel hub for it, just in case!


55 mph: Not only is 55 mph the recommended fastest speed for towing, but in some states it's against the law to go faster! Along with driving slower than you might normally when you're towing something, it's also a good idea to overcompensate for rough driving situations likes rough roads, rain, snow, strong winds, etc. 
Tow with confidence in your N Charlotte Toyota!
Worried about towing heavy cargo in your new Toyota in N Charlotte? There's no reason to be! With more than one new Toyota truck and SUV able to handle heavy weights, you can confidently transport your cargo with ease. 
Have a question or want to explore how much a tough Toyota can handle in person? Give our Internet Sales Team a call at (888) 883-3797 to find out more!