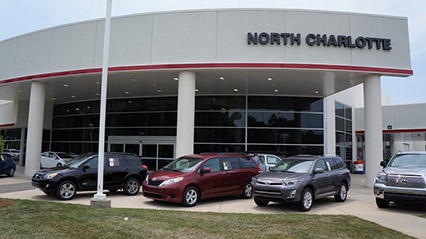 If you've recently purchased a new Toyota in N Charlotte, then chances are you've already started to research what kind of car insurance is best for your new vehicle. Our N Charlotte Toyota dealership strives to provide drivers and car owners with answers to the pressing questions they have. While most car owners know that it's important to have car insurance, have you ever wondered why it's a good idea to get it as soon as possible? We have the answers you're looking for here! 
Get car insurance for your new Toyota quickly!
Sometimes the excitement of buying or leasing a new Toyota in N Charlotte can be so exciting that drivers can be forgetful of other details that are extremely important to take care of as soon as possible. However, it's incredibly important to get car insurance for your vehicle as soon as you can. 
To begin with, car insurance helps protect the investment you've made in your new vehicle. It's no secret that car accidents can cause a lot of damage to the cars involved, but the cost of restoring your new Toyota and making it like-new can be incredibly minimized – if not eliminated – by having car insurance.

If you happen to be involved in a collision with your new car, then having insurance on it can also help take care of medical expenses. If you don't have insurance for your vehicle, though, then you can be liable to pay for these bills.


Along with providing you with financial protection, it can also deliver peace of mind. Did you know that car insurance offers protection from liability lawsuits if you're involved in a collision and the other driver decides to seek damages against you? Having car insurance gives you reassurance that if this situation happens, then you're already prepared for it!
These are some of the more practical and cost-saving benefits that car insurance on your new Toyota near Charlotte helps provide. 
Owning a car requires car insurance
Along with the budget-saving benefits and reassurance car insurance delivers, the law also requires car owners to have it. The state requires drivers to at least carry a minimum policy, but what the minimum is and the type of policy required varies from state to state. If you happen to get pulled over and don't have insurance, then a variety of consequence can occur. For starters, you could receive a ticket and get fined. However, if you're involved in an accident the consequences could be even more severe. Besides being fined, it's possible to lose your license, have the care impounded, get sued, or even go to jail! 
To avoid excess expenses, and to ensure you're following the law, make sure you have the necessary car insurance that's right for your new Toyota in N Charlotte! If you don't have a new car yet but are eager to start the process, stop by and visit us! We're located at 13429 Statesville Road and are here to help you out!