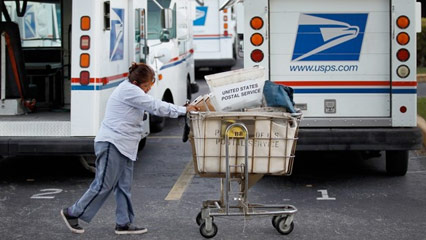 CHARLOTTE, N.C. — As today's weather event continues to create challenging travel conditions throughout the area, the United States Postal Service has announced it is suspending mail delivery to the following ZIP Code areas: 280, 281, 282.
Additionally, all retail services in the 280, 281 and 282 area will end at 1pm today.
Regular mail delivery is expected to resume as soon as conditions and carrier access allows.
When it does, customers are reminded that mounds of snow and patches of ice in front of mailboxes create havoc for carriers trying to safely deliver the mail. 
Residents maintaining a clear path to the mailbox — including steps, porches, walkways and street approach — will help postal carriers maintain consistent delivery service.
Customers receiving curbside delivery should also ensure clear access to their mailboxes for letter carriers who deliver from the street.
Postal employees make every reasonable effort to deliver mail in many difficult weather conditions. However, delivery service may be delayed or curtailed whenever streets or walkways present hazardous conditions for letter carriers or when snow is plowed against mailboxes.
The U. S. Postal Service curtails delivery only after careful consideration, and only as a last resort. If mail is curtailed, delivery is attempted the next delivery day.
All customers are reminded that Monday, Feb. 17, is President's Day and there will be no regular mail delivery or retail services that day.