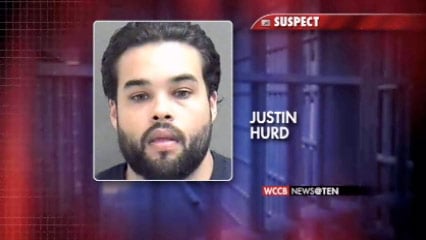 CHARLOTTE, N.C. — The jury in the Justin Hurd murder trial returned with a verdict of guilty on three counts of first degree murder and on one count of arson.
The charges stem from a murder investigation that happened at a home on Patricia Ryan Drive. Investigators found Kenshasa Wagstaff and her boyfriend Kevin Young, bound, stabbed and shot to death.  The house was then set on fire. 
Wagstaff's niece, Jasmine Hines, was found at a second crime scene in Huntersville.  Her body was left in a ditch.  She was shot and soaked in gasoline. 
Hurd is facing the death penalty in this case. 
Watch tonight's WCCB News @ Ten for more on the verdict.