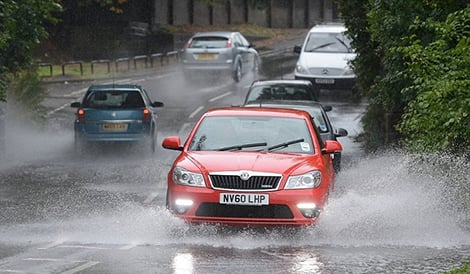 While rain may be a good thing for our lawns, it's certainly a dangerous thing to deal with when we hit the road. It's incredibly important to be prepared when it comes to wet weather. When you are prepped with the right knowledge, your new Toyota near Charlotte is ready to drive in the rain! Toyota of N Charlotte is sharing some safe driving tips that will make driving in the rain easier than ever before!
Safely drive your new Toyota near Charlotte in the rain with our tips
Ideally, you should avoid driving in the rain in your new Toyota in N Charlotte. However, we don't live in an ideal world and driving in the rain is going to happen eventually. Prepping yourself with the right kind of knowledge will come in handy when you're driving in inclement weather! Here are some hints to keep in mind when you drive your new Toyota near Charlotte in the rain:
Turn on windshield wipers and headlights: As soon as it starts raining, you should turn on both your windshield wipers and headlights. Not only is the law, but turning on your headlights will allow you to see clearly around your vicinity. Drivers around you will also be able to see you.

Keep your distance from other cars: Keep your new Toyota near Charlotte away from other vehicles when it's raining. When you're traveling on wet roads, it's best to keep a distance of five cars between your new Toyota in N Charlotte and the vehicle in front of you. You never know when you have to hit the brakes!

Drive at a slow pace: Speeding is always dangerous, but doing so on wet roads is just asking for trouble! You should always drive at or below the speed limit when it's raining, since your Toyota's tires can lose traction on the wet road! Just drive slowly and cautiously during inclement weather and you should be golden.

Leave early: If you have somewhere to be when it's raining, try to leave as early as possible. This will allow you to drive slowly and safely as you make your way to your destination. You also have a chance of getting caught in traffic when the weather gets rough, so leaving early helps you get to your destination on time!

Avoid large puddles as you drive: Large puddles were fun to jump into when we were kids, but they can be quite dangerous if you drive over one in your Toyota! Puddles can cause your ride to hydroplane and lose control. The water can also cause damage to your new Toyota if the puddle happens to be too deep! Stick to the middle lanes, as puddles tend to form on the outer lanes!

Stay safe in your new Toyota near Charlotte
Staying safe in your vehicle isn't hard when you take precautions! Get more safe driving at our Toyota dealership! We're located at 13429 Statesville Road in Huntersville and can be reached at 888-883-3797!