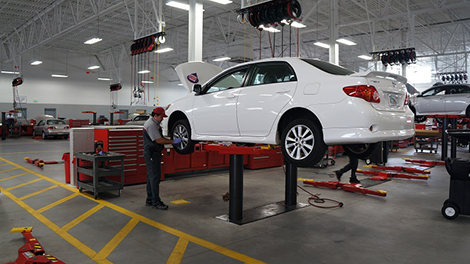 One of our main goals at our Toyota Service Center in Charlotte is to assist you with any of your automotive needs. There are a lot of misconceptions when it comes to Charlotte car maintenance, which is it's so important to differentiate from which auto service is completely necessary and what is a myth. Check out what our Toyota Service Center techs consider car maintenance in Charlotte myths.
Our Toyota Service Center techs debunk Charlotte car maintenance myths
If you're not into cars, you might not know what your vehicle needs from you. You might wonder which type of car maintenance your vehicle might need and which service your vehicle could do without. Check out these car maintenance in Charlotte myths:
Get an oil change every 3,000 miles: One of the biggest car maintenance misconceptions is that you should get an oil change in Charlotte every 3,000 miles. This isn't exactly true, since vehicles nowadays can go at least 5,000 miles between oil changes. It depends on what type of motor oil your car requires. If you're not sure which type of engine oil your vehicle needs, we suggest your refer to your owner's manual.
Only use synthetic oil during oil changes: Another Charlotte car maintenance myth is that you should only use synthetic oil when getting an oil change to enhance performance. This isn't true; in fact, many vehicles perform just fine with conventional motor oil. The downside to using this type of engine oil is that you'll have to change it more often. Conventional oil is cheaper than synthetic oil, but the latter lasts longer. The only time you truly need to use synthetic oil is if your car requires it!
Never replace a single tire: If one of your car tires in Charlotte gets ruined, you're usually told that you should replace the damaged tire plus another tire. You can actually get away with replacing just one of the car tires if they're the same brand, size and tread pattern as the rest. You should also make sure that the rest of the tires still have a lot of tread depth!
Use premium gas makes your car run better: Some people say that using premium gas will make your vehicle run better. We suggest that you don't use premium gas unless your vehicle requires it! If you put premium gas on your car and it doesn't need it, you'll just be wasting money. Stick to 87-octane fuel if your car doesn't require premium! 



Routine car maintenance in Charlotte shouldn't be difficult
You might have also heard the suggestion that you should replace the air filter every time you get an oil change, but you don't need to do so. Air filters are usually replaced every 30,000 miles, but it depends on your driving habits! We suggest you take a peek at your driver's manual to see when you should replace this filter.
Are you in need of routine auto service? Visit our Toyota Service Center—we're located at 13429 Statesville Road, just off I-77 at exit 23. You can also give us a call at 888-378-1214 to schedule an appointment!