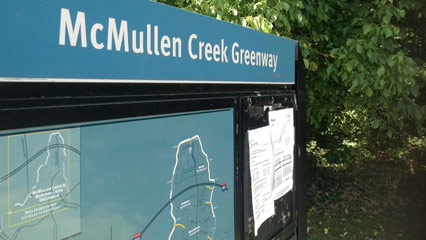 CHARLOTTE, N.C. — Police say a man tried to kidnap a teenager from a local greenway in Charlotte.
Investigators say the suspect had a knife and tried to tackle the teen from behind while she was at McMullen Creek Greenway in south Charlotte just before noon on Thursday.  
The man is accused of trying to shove her on the ground.  The victim allegedly fought off the suspect.  
Police say the suspect is described as a black or Hispanic male, approximately 25 years of age, 6'0″ and 190 lbs. He was last seen wearing a light blue t-shirt and khaki cargo shorts/pants.
The CMPD would like to remind the public to practice the following personal safety tips as you go about your daily activities:
*         Be alert, walk with authority, look ahead and scan your surroundings.
*         Jog or walk with a known companion.
*         Always jog or walk in a familiar area; avoid heavily wooded, poorly lighted or secluded areas.
*         Be aware of your surroundings; avoid wearing devices with earphones that will disable you from hearing activities around you.
*         Wear bright colored clothing to improve visibility; avoid exercising after dark.
*         Vary your route, if you think you are being followed go to the nearest residence, open business or group of people and seek help.
*         Carry a cell phone to use for emergencies; avoid leisurely talking on the phone when walking, criminals pray on people that are distracted.
*         Be extra alert to someone who asks for directions and continues to engage you in conversation.