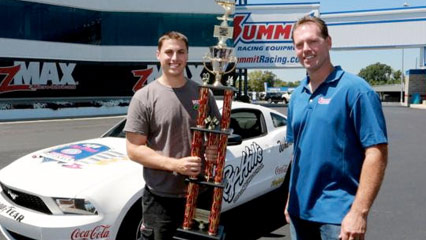 CONCORD, N.C. — WCCB's Brandon Davidow walked away with a huge trophy and bragging rights after he won the second round of the 2014 Media Mayhem at the zMAX Dragway.  After two rounds of qualifying and a bracket-style elimination, Davidow had the best time.  
 "I'm so excited to take this home for WCCB," Davidow said. "Last year I was lucky enough to win the bus race and I came in second here last year. So I just wanted this opportunity to go again and try to win it. It was just so much fun. Love racing here. This is great."
Davidow earned the win in a photo-finish over WBTV's Brandon Tomlin, posting a 15.328 second pass to Tomlin's 15.364. Time Warner Cable News' Matthew East earned the No. 1 qualifying spot with an event-low 15.087 second pass.
The third and find round of the 2014 Media Mayhem is scheduled for Oct. 2 and will feature go-kart racing on the infield road course at Charlotte Motor Speedway's legendary 1.5-mile superspeedway.
Fans can enjoy all of the weekend action with a three-day pass to the NHRA Carolina Nationals, with packages starting at just $99. Children 13 and younger will receive free general admission with a paid adult all weekend.
NHRA Carolina Nationals qualifying opens on Friday, Sept. 12, with pro sessions scheduled at 3:15 p.m. and 5:45 p.m. The final two qualifying sessions are scheduled to take place Saturday, Sept. 13, at 2:30 p.m. and 5:45 p.m. Final eliminations are scheduled for 12 p.m. on Sunday, Sept. 14.
To purchase tickets, call zMAX Dragway at 800-455-FANS (3267) or visit www.zMAXdragway.com. For more information about NHRA, please visit www.NHRA.com.