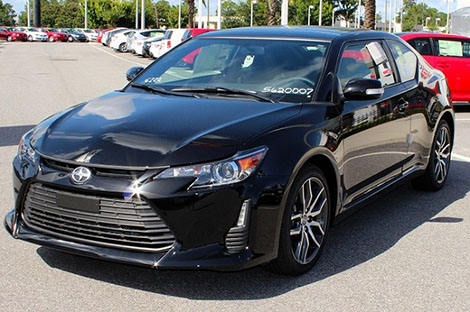 When you're in the market for a new ride, chances are that you might get a little overwhelmed with all of the choices available! Before you even step foot in our Toyota Scion dealership, you have to know what type of car you want. If you've decided that you want to purchase an affordable sports car, you've thought about the Scion tC in N Charlotte! This sleek sports car boasts incredible style for an affordable price tag. 
If you've been thinking of getting this new Scion near Charlotte, you've probably also thought about the Honda Civic. To make your car shopping process a bit easier, we're comparing the 2015 Scion tC to the Honda Civic. Find out why this Scion vehicle comes out on top!
The Scion tC in N Charlotte slays the Honda Civic
While both of these vehicles boast similar price tags, the new Scion comes out on top in many categories! When purchasing a new vehicle, you want to bring home a well-rounded ride and the 2015 Scion tC near Charlotte can help you achieve this goal. Why does this Scion tC come out on top in the battle of the affordable sports cars? Let's take a look at this battle!
Performance: When you're thinking of purchasing a sports car, you want a ride that will deliver! This new Scion blows the Honda competitor out of the water when it comes to performance. This new Scion boasts 2.5L 4-cylinder engine puts out 179 hp and 172 lb.-ft. of torque! The Honda Civic, on the other hand, only offers a 1.8L 4-cylinder that puts out 143 hp and 129 lb.-ft. of torque. If you're looking for a powerful ride, the Scion vehicle is the one for you!

Technology: People nowadays typically want a tech-savvy ride. The Scion tC blow the Honda Civic out of the water when it comes to tech features! This new Scion comes standard with incredible features like HD Radio, Sirius XM Satellite Radio, a 6.1-inch display audio touchscreen, Navigation, and many other features! While you can get these features in the Honda Civic, you'll have to pay more money to get them, as they aren't standard features! 

N Charlotte Scion tC is a valuable ride
When you get behind the wheel of this Scion near Charlotte, you'll feel great knowing that you're getting a valuable ride. The Honda competitor has more than one trim level, while the Scion vehicle comes in one trim level. This would typically be a negative feature, but it's a good thing this time around. This Scion sports car in N Charlotte comes out on top, since it offers more standard features! That means that you won't have to spend as much money to get some of the features that you want!
It's clear who the real winner of this battle is: the N Charlotte Scion tC! Come see it for yourself at 13429 Statesville Road, just off I-77 at exit 23. We can be reached at 888-598-0704 if you have any questions concerning this ride. We look forward to your visit!