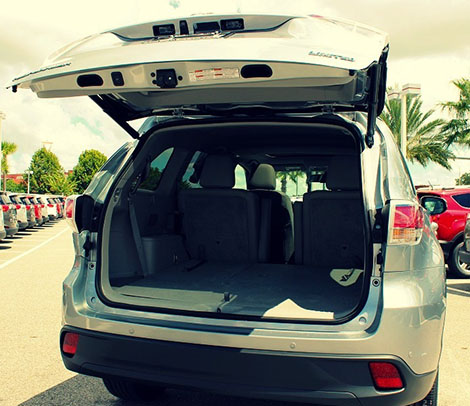 The Thanksgiving weekend will be here sooner than we know it – are you ready to visit your loved ones? You might be ready, but your current ride may not be. No worries, though! Our Toyota dealership wants to help you get into a new Toyota in N Charlotte in order for you to get back home safely and efficiently. 
If it's time to get into a new ride, consider it a blessing! Getting to your destination safely for Thanksgiving weekend is a must. For that reason, we're sharing which new Toyota might be best for your trip. We think that the 2015 Toyota Highlander near Charlotte is the perfect ride for Thanksgiving road trips! 
N Charlotte Toyota Highlander gets you to your destination safely
When you think of a safe vehicle, this new Toyota SUV in N Charlotte should be one the first rides that pops up! Toyota is constantly being celebrated and lauded for being safe, and the Toyota Highlander doesn't fall short on safety! Here are some safety features that keep drivers and passengers safe:
Toyota Star Safety System

An Advanced Airbag System with EIGHT airbags

Tire Pressure Monitor System 

Ventilated Disc Brakes

Backup Camera


In the past, the Toyota Highlander has received major awards from the IIHS and the NHTSA! These organizations are some of the most prestigious organizations when it comes to vehicular safety. This means that the new Toyota Highlander near Charlotte is one of the safest cars around!
N Charlotte Toyota Highlander is road trip friendly!
We've all been a part of a road trip – most of the time you're uncomfortable and bored! When you take this Toyota SUV home, however, you and your passengers will be cozy and entertained with all of the features it has to offer. How can this SUV save any road trip?
This Toyota has enough seating for up to eight passengers! This seating arrangement allows everyone to be comfortable (which means the little ones won't be as whiny). The extra amount of seating means that no one will get left behind on turkey day.

This new Toyota SUV in N Charlotte boasts a lot of cargo space, which is perfect for the holidays. If you're going on a road trip, we know that you'll need a ton of cargo space. You'll get up to 83.7 cubic feet behind the first row, which will be perfect for cargo and luggage! Even if that's not enough space, this Toyota can tow up to 1,500 lbs., which means you can tow extraneous things in a trailer!

If entertainment is important to your family, you'll be happy to know that the Toyota Highlander can keep up! The available Blu-ray Disc rear-seat entertainment system will keep your family entertained for hours as you make your way to your destination! This system includes a 9-inch display screen, RCA jacks, a remote, and two wireless headphones!


Visit us before Thanksgiving weekend gets here to get into the N Charlotte Toyota Highlander! We're located at 13429 Statesville Road and we can be reached at 888-883- 3797. We look forward to your visit!