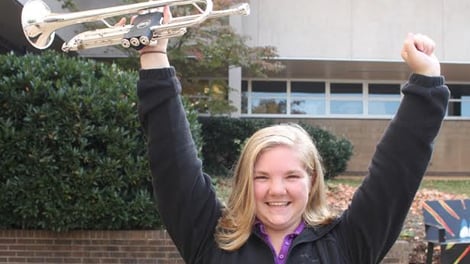 CHARLOTTE, NC– A Hickory High School senior,  Kristyn Carson, has been selected to perform in the 88th annual Macy's Thanksgiving Day Parade in New York City. 
Carson, 17, will join 245 musicians and dancers representing all 50 states as they perform in the Great American Marching Band.
Each performer was selected through a selection proces as well as recomendations.
Carson says she is working on the memorization two pieces for the parade: Shake it Off by Taylor Swift and Locked Out of Heaven by Bruno Mars.
 "I will fly to NYC for three days of rehearsal just prior to Thanksgiving Day," said Carson. "They are providing us with new uniforms and on the day of the parade, we must leave the hotel at 2:00 AM for our final rehearsal. The final early-morning rehearsal will take place on the streets from 77th and Central Park West on the way to Sixth Avenue to Macy's Herald Square. They will feed us breakfast and then we prepare for the line-up for the actual parade."  The live NBC broadcast begins at 9:00 AM.