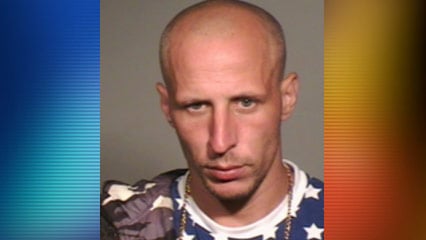 STATESVILLE, N.C. —  Charlotte Police have arrested a man suspected of the armed robbery of a Cricket Wireless Store in Statesville.
Charlotte Officers arrested Joey Eugene Richards on Monday at the Greyhound Bus Station in Charlotte on outstanding warrants before transporting him to Statesville for processing and further questioning. Upon further questioning Richards admitted to robbing the Cricket Wireless located 1034 Crossroads Drive in Statesville.
According to police reports, Richards entered the Cricket Wirelesss store and asked about a phone before pulling out a gun and demanding that the clerk remove the cash drawer. The clerk was then directed to a room behind the service counter where he demanded the combination to the store's safe. Richards then duct taped the clerk's hands and arms and had the clerk enter the bathroom where he told him not to move.  Following the store robbery, the clerk exited the bathroom and found that his keys and vehicle had been stolen along with the contents of the cash drawer and safe.
Richards was charged with Robbery with a Dangerous Weapon, First Degree Kidnapping, Larceny of a Motor Vehicle, and was also charged with the unrelated charges of Larceny of a Motor Vehicle, Felony Breaking & Entering, and Felony Larceny after Breaking and Entering.  He is being held on $250,000.00 secured bond.