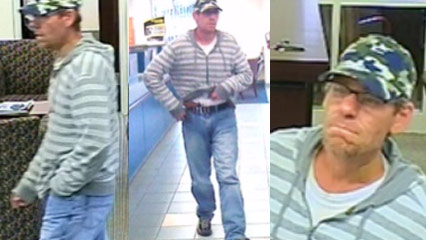 HUNTERSVILLE, N.C. — Police are investigating after a man robbed a Sun Trust bank in Huntersville.  
Detectives say the suspect entered the bank on Holly Point Drive, displayed a gun while he handed the teller a note demanding money and then left the bank.  
Police were alerted after someone hit a silent holdup alarm.  
The suspect is described as a tall, slender male, 6′ to 6'2″ tall, wearing blue jeans, a white t-shirt, a gray and white stripped hoodie style sweatshirt, a camouflage ball cap, glasses and dark colored tennis shoes.  
Anyone with information about this suspect is asked to call 911.