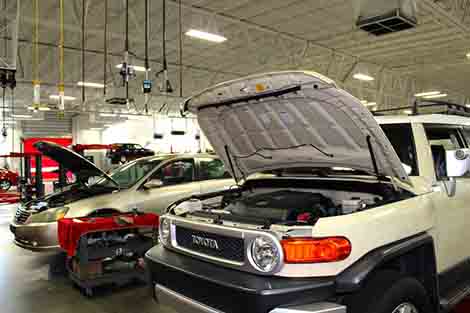 Taking care of your vehicle with Charlotte auto service is smart. You want to care of your vehicle, as doing so will prolong the life of your life. When the auto parts in your ride are malfunctioning, it may cause problems down the road! Making sure these parts are in sync with each other will help you avoid costly auto repairs! One of the auto parts you should keep an eye on is the timing belt. 
Our Toyota Service Center is explaining what this belt is and signs you may need a Charlotte timing belt replacement! 
Our Toyota Service Center shares what a timing belt is 
Before we delve into the signs that you may need a Charlotte timing belt repair, we're sharing exactly what this auto part is. 
You'll be surprised to learn that this is one of the most important belts found in your car. It's basically a notched rubber belt that's on the car's engine and controls the engine's crankshaft. The crankshaft is the part that controls the camshaft, and the camshaft opens and closes the valves. If this belt were to be dysfunctional, your engine might not function. Needing a Charlotte timing belt repair is not something to be messed with. 
A Charlotte timing belt replacement is easy with our auto service center
If you're not sure what the signs of a failing timing belt, no worries! Typically, these belts can last from 60,000-100,000 miles; however, this belt can become damaged at any moment. Our Toyota Service Center techs are breaking down the warning signs that you might need to replace this belt:
Your car has starting issues: If your ride has a hard time starting up, it might mean that this belt is in need of some major Charlotte auto service! As we mentioned, this auto part open and closes the engine valves. If this belt has a hard time catching on, the engine has a hard time turning over. We suggest you bring your ride to our auto service center in Charlotte to get your ride inspected before it malfunctions!

High squealing sound: When this auto part is worn out and starts to get loose, it'll start making a squealing sound! Since this sound is pretty unforgettable, you'll know when your belt is in need of replacement. This sound is typically heard when you first start the car, so you'll know if the problem is this belt.

There's visual damage: When you bring your ride to get car maintenance in Charlotte, we'll inspect your ride from head to toe and we'll be able to see if you need this belt replaced. You don't have to wait to bring your ride to our auto service center to inspect this auto part. You can take a peek under the hood to see if this part is in good condition. If it's clean, meaning it doesn't have any oil or coolant on it, then you don't have to replace it anytime soon!


Visit our auto service center to get a timing belt replacement! We're located at 13429 Statesville Road and can be reached at 888-378-1214.