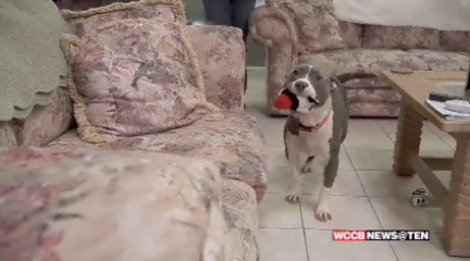 ROCK HILL, SC — A family in Rock Hill nearly gave up hope of finding their stolen dog, but Wednesday night, there was a happy ending.
It's taken three years, but Emma is back home.  A man found her running around near the Gaston County line and got her examined because she was skin and bones.  The vet noticed she was micro-chipped, and was able to find her original owners, who reported her stolen in 2011.
"I just started crying when I saw her!  It was so sad, cause how could you steal a dog and then not take care of it?  At least give it a home where it's your family," said the dog's owner Mary Imhof.
Emma's owners say she does have heart worms, but is putting on weight.  They're glad she's home in time for her birthday next week and are hopeful their four other stolen dogs will turn up.