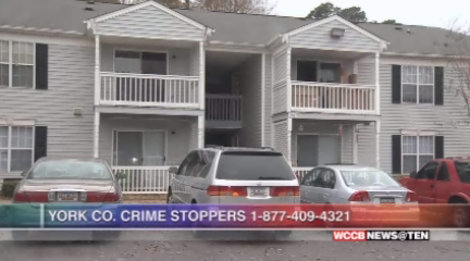 ROCK HILL, SC — There's no sign of two suspects in Rock Hill's fifth murder of the year.  41-year-old Antonio Heath was shot at the Deerfield Run Apartments off India Hook Road Monday night.  He died at the hospital.  WCCB saw bullet holes on the door of Heath's apartment Tuesday.
"It's not a bad community," said Rock Hill resident Matt McCoy.  "It's not a good look, you know.  School across the street and everything.  Kids over in the area."
Witnesses say the two suspects were wearing camouflage jackets and carrying handguns.  Anyone with information should call York County Crime Stoppers at 1-877-409-4321.