WCCB Is Live At Charlotte MiniCon!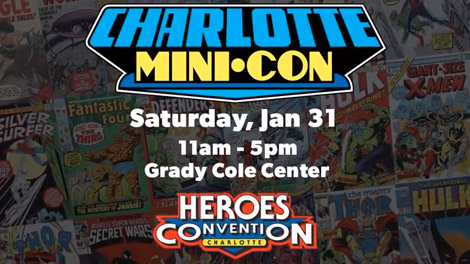 The Charlotte MiniCon is now underway at the Grady Cole Center and WCCB is here with the CW Street Team giving away lots of cool CWag!

The MiniCon runs from 11am to 5pm featuring vendors and many comic book artists filling the Grady Cole Center. Look out for the CW Street Team booth, play our plinko game and you could win some goodies from The CW for free! PLUS, we will have a Text2Win contest exclusively for Charlotte MiniCon attendees where Supernatural seasons 1-9 and 2 weekend passes to the Mad Monster Party are up for grabs! Look for details on what you need to do to enter at our booth.
For all the details on Charlotte MiniCon, head to HeroesOnline.com. And if you register at clt-minicon2015.eventbrite.com and bring a non-perishable food item for the Second Harvest Food Bank your admission will be free! There will be door prizes each hour plus a costume contest.

Make sure to follow Heroes Aren't Hard To Find and WCCB, Charlotte's CW on Twitter, Facebook and Instagram for all the latest news and coverage.