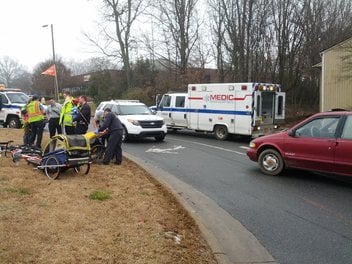 CHARLOTTE, NC — Two mothers on bikes with child carriers were hit by a mini-van as they tried to cross the street near Home Depot on Wendover Road Wednesday morning. 
One of the women was transported to the hospital with non-life-threatening injuries. The other mom and both small children had cuts and bruises, but did not need to go to the hospital.
Police said the driver of the mini-van made a left turn from Wendover onto Home Depot Drive when he struck the bicyclists as they were crossing the side street.
No word on any charges to the driver.