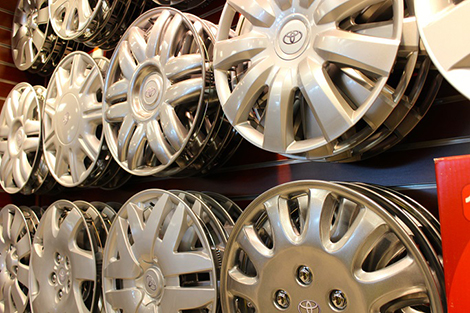 Drivers like feeling unique on the road, there's no denying it. It's not an uncommon desire for people to want to stand out on the road and customizing a car will help a driver do just that. Luckily, customizing your car isn't hard nowadays. There are different stores, like our Charlotte Toyota Parts Center, that caters to customization.
 
If you're in need of auto parts so you can customize your car, no worries! Our Charlotte Toyota Parts Center can help you customize with different auto parts (for an affordable price). Let's take a look at the different parts you can find at our parts department! 
Customize your ride with our cheap auto parts
If your main goal is to change the exterior of your car for a low price, you can fulfill that goal with the help of our auto parts and our parts department! We know that many people want to save money when customizing but they don't want to sacrifice quality. Luckily, our Toyota Parts Department will be able to amp up the looks of your car! How can you customize cars with our auto parts?
You can add functionality to your truck or SUV with a roof rack and running boards! Say goodbye annoying trips on your car!

Do you like feeling like an individual when riding in your car? You may want to add exterior graphic decals so you can make your car stand out from the crowd!

If you want to change the silhouette of your car, you can add an aero body kit or a rear spoiler! Both of these will make your ride look extra sporty and can be found at our Charlotte auto parts store!

Need help lighting the way? You can find get fog lights and LED lights! Not only will it add more visibility, it will add a certain je ne sais quoi to your ride! Primping your ride with these auto parts will put a smile on your face. 
You can even customize your ride with a car paint job in Charlotte, to really customize your ride!
In addition to outdoor customization, we have parts that will help you customize the technology in your ride! You can add fun car parts, like:
A surround sound speaker system, so you can jam to your favorite tunes easily 

A rear-seat entertainment center with a Blu-ray player, RCA jack, and a color display, so your family can be entertained on the road

A Bespoke Premium Audio System for your Scion, so you can have a 6.1-inch LCD touchscreen, traffic updates, Aha Internet services, and more
Find auto parts at our Charlotte Toyota Parts Department
Here at our Charlotte Toyota Parts Department, we have genuine Toyota parts; however, we can order car parts of all makes and models. This means that you can enlist the help of our Toyota Service Center to install specific parts! 
If you want to get your ride up to your standards, let our Charlotte Toyota Parts Department help! Visit us today at 13429 Statesville Road, just off I-77 at exit 23. We can be reached at 704-875-9199 if you have any questions!