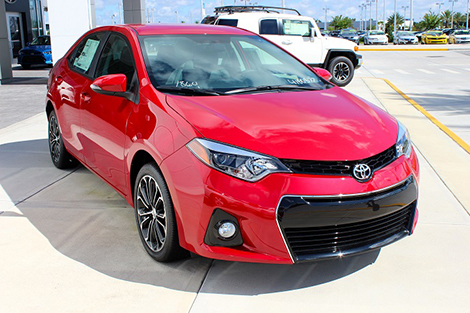 When in the market for a new car, you probably get overwhelmed with all the different choices available to you. You might get a bit overwhelmed, and that's OK! When shopping for a new car, the first thing you need to do is do your research! Here at our N Charlotte Toyota dealership, we want you to be able to make an educated purchase, which is why we like to do car comparisons!
If you're in the market for a compact car, you've probably thought about the 2015 Toyota Corolla! While this car may be the best-selling car in the world, it does have some competition. The Nissan Sentra is the closest competitor, which is why we're comparing both of these compacts cars!
2015 Toyota Corolla takes on the Nissan Sentra
The N Charlotte Toyota Corolla is a very popular ride, but just because it's popular, it doesn't mean that it's not rivaled. Its Nissan competitor does a good job at trying to beat this new Toyota, but this battle of the compact cars goes to the 2015 Toyota Corolla near Charlotte! Let's take a look at different categories to see how these two cars go against each other.
Round #1: Performance
This is one of the most important things you should look at when buying a new car! When comparing the 2015 Toyota Corolla to the Nissan Sentra, this best-seller comes out on top. While they both have a 1.8L 4-cylinder engine, the Toyota has more power than the Nissan rival. You can expect to get 132 horsepower from the new Toyota near Charlotte as opposed to 130 horsepower from the Nissan vehicle. That might not seem like much, but every bit of power helps!
Round #2: Space
Another aspect you need to think about when buying a new car is space. Since these two cars are compact cars, they have the same dimensions; however, the N Charlotte Toyota Corolla has a bit more space to offer than the Nissan Sentra. The Toyota has 97.5 cubic feet of passenger volume while the Nissan vehicle offers 95.9 cubic feet of passenger volume. The difference isn't that large, but it's enough to be noticeable!
Round #3: Style
Style is another big category that people look at when buying a new vehicle, and both of these vehicles are rocking a brand new style. They both received a makeover not too long ago, but their style is completely different. The new Toyota Corolla near Charlotte has a sportier look than the Nissan Sentra. It sports standard LED headlights and a strong front fascia with grille!
Take this N Charlotte Toyota out for a spin today
As you can see, this new Toyota comes out on top in this battle! The world's best-selling car is chic and can outperform competition easily!
Take the N Charlotte Toyota Corolla out for a spin at 13429 Statesville Road, just off I-77 at exit 23. We can be reached at 888-883-3797 if you have any questions or would like to schedule a test drive!