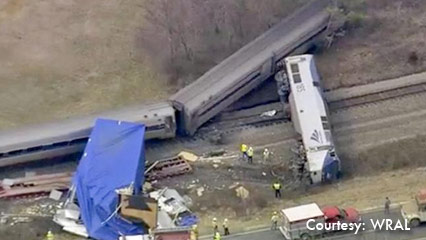 HALIFAX, N.C. — Investigators say an Amtrak train that left Charlotte collided with a truck in Halifax County injuring several people.  
The accident happened Monday afternoon at the intersection of U.S. 301 and N.C. 903.  Images show the conductors car on its side.  Officials say the train was traveling from Charlotte to New York.  There were 212 passengers on board and 8 crew members.
Only minor injuries have been reported at this time.  The intersection is closed as crews investigate the accident.  Officials say the crossing involved in this incident is equipped with gates and railroad-preempted traffic signals.  
If anyone is concerned about a family member that was on train #80, they are asked to call 1-800-523-9101.
This is a developing story.  Check back for updates.