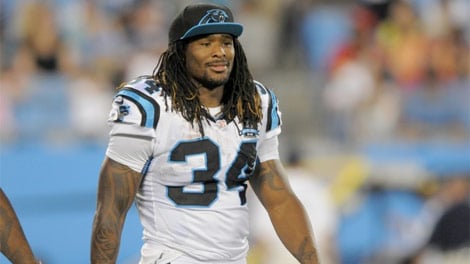 CHARLOTTE, N.C. – The Carolina Panthers have released running back DeAngelo Williams.
"DeAngelo will forever be remembered as one of the quintessential Panthers of this era," head coach Ron Rivera said. "He holds all of our running back records, and his 20 total touchdowns in the 2008 season was a truly special feat.
"I really enjoyed watching DeAngelo grow over the past four years and wish him nothing but the best moving forward."
Williams is the franchise's all-time leader in rushing yards and rushing touchdowns but played in just six games in 2014 and produced a career-low 219 rushing yards and no touchdowns. The Panthers' first-round draft choice in 2006 out of Memphis totaled 6,846 rushing yards on 1,432 carries and 46 rushing touchdowns in nine seasons with Carolina.
Williams had an injury-plagued 2014 campaign. A thigh injury and then an ankle injury forced him to the sideline for six of the Panthers' first eight games. Williams returned to play four consecutive games before breaking his hand at Minnesota and missing the final four regular season games.
Against the Vikings, Jonathan Stewart rushed for 85 yards to jumpstart a fantastic finish to the regular season, amassing 486 yards over the final five games before gaining another 193 yards in the playoffs.
"We are very appreciative of the hard work and effort that DeAngelo brought to Bank of America Stadium every day," general manager Dave Gettleman said. "Last year was extremely difficult for him but he finished the season like a pro, and I will always respect him for that."
In 2009, Williams and Stewart became the first teammates in NFL history to each rush for more than 1,100 yards in the same season, and Williams earned his only career Pro Bowl appearance to date. The year before, Williams amassed what still stand as team records with 1,515 yards and 18 rushing touchdowns.
Williams holds the franchise record with 18 100-yard rushing games and is one of just three players – along with Tony Dorsett and Ricky Williams – to top 6,000 rushing yards in both college and the NFL.
The Panthers chose to tag Williams' release as a post-June 1 designation. Under the Collective Bargaining Agreement, each team can apply the designation to two veterans between the first day of the league year and the final day of May. The salary cap handling for such a release is then treated as if the release had occurred on June 2 or later of the same league year; therefore all amortized bonus amounts that had previously been charged beyond the current league year would not accelerate forward into the league year in which the player is released.