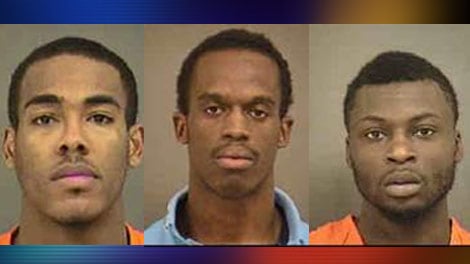 CHARLOTTE, NC– Police have charged three Charlotte men for an extensive series of burglaries dating back to 2013.
Authorities arrested and charged  Kwasi Brown, 23, Tyrone Smith, 22, Javis Dozier, 22, for burglaries, larcenies and vandalism's from December of 2013 to January of 2015.
The suspects reportedly targeted local businesses, common areas, apartment buildings, hotels and school properties, where the suspects would steal electronics adding up to $60,000 of stolen property over the two years.
Smith was charged with fourteen counts of Felony Larceny, Six counts of Felony Breaking and Entering, Resisting Officer and Damage Property.
Dozier was charged with twelve counts of Felony Larceny, Four counts of Felony Breaking and Entering, three counts of damaged property.
Brown was charged with five counts of felony larceny, felony breaking and entering, and resisting a public officer.