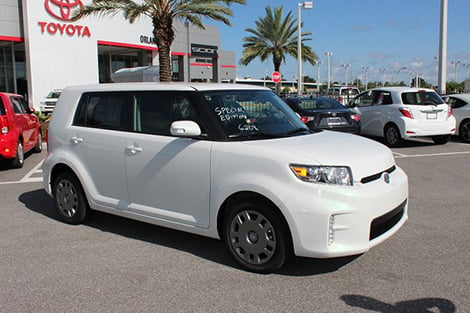 When buying a new car, you need to be sure that you're picking out the perfect car for you! One of the easiest ways you can do that is to compare cars. You'd be surprised how easy your car shopping process becomes when you take the time out to do car comparisons! 
Here at our Scion dealership, we understand how special the 2015 Scion xB in N Charlotte is! This quirky and fun has so much to offer to drivers. We know that it has some competition in the 2015 Kia Soul, though. To help you make the best decision, we're comparing the Scion xB near Charlotte to its Kia competitor – check it out!
2015 Scion xB vs Kia Soul: which is the better ride?
When you compare the N Charlotte Scion xB to the Kia Soul, you'll realize that they're similar; however, just because they are similar, it doesn't mean that they're equal. When you put them side by side, you'll realize that this new Scion near Charlotte blows the Kia competitor out of the water when it comes to important categories. Check out how this quirky N Charlotte Scion outpaces its Kia rival!
Value: When you put these two vehicles next to each other, you realize that the Scion xB is a lot more valuable than the Kia Soul. For starters, this new Scion comes in one trim level, meaning all the features you could want come standard in this ride. The Kia competitor comes in three trim levels, so you probably have to pay more for the features you want! 
Space: An important aspect people look for when shopping for a new ride is space. When comparing these two vehicles, it's easy to see why people flock to the Scion option! You can expect to get up to 69.9 cubic feet of cargo space when you choose this member of our N Charlotte Scion cars. The Kia Soul offer 61.3 cubic feet of cargo space, which is almost nine cubic feet less than the Scion option. If you need a ton of space, your best bet is to get behind this new Scion instead of the Kia option!
This N Charlotte Scion has the latest technology!
Technology is something drivers tend to look for when buying a new car. When comparing these two cars, it's clear to see who the winner is when it comes to technology!
The 2015 Scion xB comes standard with a touchscreen display audio system, which will let you control your music settings at the touch of a finger! While you can add it to the Kia competitor, you'll have to pay extra to get it in your vehicle. 

Another standard feature found in the new Scion xB? A backup camera, to make getting out of tight spaces a complete breeze! While it's an available option for the Kia Soul, you'll have to add it for an extra fee!
It's clear to see who the winner is: the 2015 Scion xB near Charlotte! Come check it out today at 13429 Statesville Road. You can reach us at 888-598-0704 if you have any questions.