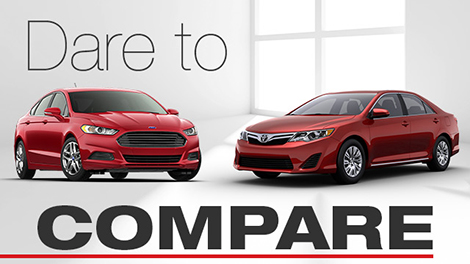 Buying a car can be a pretty daunting task. Not only do you have to worry about finances and making sure you have enough money, you also have to worry about the overall process. Are you able to make the best decision? Are you armed with the proper knowledge? One of the easiest ways you can make sure that you're making the right choice for your future vehicle is to compare cars.
Here at our N Charlotte Toyota dealership, we want you to be able to make the right choices when it comes to your new ride. We aim to teach you car shopping tips, so you can make an educated purchase. This time, we're teaching you how to compare cars – check out the scoop!
Learn how to compare cars with our tips
When you compare cars, you're making it easier on yourself to decide which of our N Charlotte Toyota cars is best suited for you! Getting a new Toyota is a huge responsibility and investment, which is why you need to make sure that you're picking the N Charlotte Toyota that's right for you! Follow our tips so you're able to pick the right member of our Toyota cars that's destined to be a part of your life.
Tip #1: Think about safety
When you're buying a new Toyota, you should consider safety ratings. Our Toyota cars are considered some of the safest cars near Charlotte, as they are rated highly by prestigious safety organizations, like the IIHS and NHTSA. Not all cars are created equal, especially when it comes to safety ratings, so be sure to keep safety ratings in mind when you do car comparisons!
Tip #2: Make fair comparisons
Another thing you need to keep in mind when you compare cars it to make sure you're making fair comparisons. You wouldn't want to compare a compact car like the N Charlotte Toyota Yaris to a large truck, like the Toyota Tundra! If you want to make proper assessments, you have to be able to make comparisons that make sense. 
Tip #3: Get information from reliable source
When you compare cars, you have to be sure that you're getting your information from dependable sources. If you're researching our N Charlotte Toyota cars, you can consult the automaker's website, as well as our own website! Edmunds.com, Cars.com, and KBB.com are also considered reliable sources, so you can use them to compare cars.
Test drive our N Charlotte Toyota cars today!
Tip #4: Test drive your choices
Before you sign on the dotted line, you have to make sure that you test drive your choices! This step is extremely important when you compare cars, since it will help you see how the vehicles handle and perform. Our N Charlotte Toyota dealership has staff that will be more than happy to help you during this step!
Visit us to check out our Toyota cars today! We can be reached at 888-883-3797 and we're located at 13429 Statesville Road, just off I-77 at exit 23.
Return Home