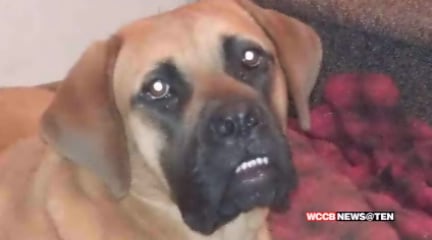 WAXHAW, N.C. — The owner of a three-year-old bull mastiff, who was reportedly taken from a fenced in backyard, says her dog has been returned.  
Waxhaw resident Jesilyn Rushing says Layla was taken from her yard Thursday.  She showed WCCB's Morgan Fogarty claw marks in the mud near the gate.  Rushing believes Layla was digging in the ground to try to get away from the thieves.  
Rushing says she woke up Monday morning after she heard a strange noise outside.  That's when she claims she saw Layla trying to dig her way back into the yard.  Rushing believes the thieves dropped the dog off at the end of the driveway and fled.
Rushing says Layla's teeth have been filed down and her toe nails were clipped very short. Rushing also noticed some scratches and marks on her legs.  Rushing believes Layla was returned because of WCCB's news coverage.  She thinks the thieves knew it would be hard to sell Layla or use her as a bait dog because the dog's picture aired on WCCB News @ Ten and was shared so many times on social media.
Before:
After: