Man Caught Near School Bus Stop With Gun, Condoms & Rope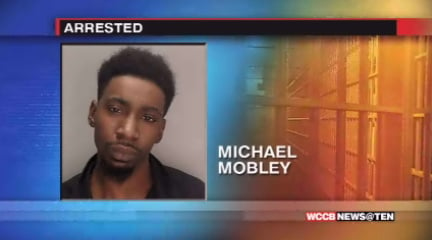 [gtxvideo vid="fleWD0u0″ playlist="" pid="Bbt3TRDe" thumb="http://player.gtxcel.com/thumbs/fleWD0u0.jpg" vtitle="bus stop man"]
ROCK HILL, SC- Rock Hill Police say the man not only had a stolen gun, but the tools to kidnap someone or even worse.
It's a neighborhood full of families. Kids playing outside, several school buses dropping students off and even a neighborhood daycare.
Parents say they called police when they noticed the man creeping in the bushes.
"It kinda scared me because you never know what he's going to do," said Jackie Brazzle. 
Rock Hill Police officers arrived in minutes and found Michael Mobley, 25, walking behind apartments just feet away from the bus stop.
"They walked over, approached him, asked him what he was doing and he gave them a shady story," said Mark Bollinger.
Bollinger says officers seized a gun and a bookbag.
"The items in the bag would lead you to believe he was up to no good," said Bollinger.
In Mobley's bag, police say they found a pair of latex gloves, yellow rope, three condoms, a box cutter and a tube of KY jelly.
"Why would you carry something like that around and then you're hanging out in bushes where kids catch the bus. If you're not planning on doing something, what are you doing standing there with it?" said Henry Bond, a Rock Hill resident. 
"If you stretch your imagination, everything in that bag could be up to a kidnapping,"said Bollinger.
Neighbors think Mobley's plan could have been worse.
"Ultimate thing–he could have raped her," said Robert Shugart. 
Mobley faces six charges including possession of a stolen pistol and resisting arrest.
WCCB checked and Mobley has a long criminal history in Rock Hill including drug possession, shoplifting and malicious injury to property.
Neighbors say it's unsettling to know he lives in the neighborhood, on the same street he was arrested.
Mobley is not listed as a sex offender in York County. He is in jail on $70,000 bond.