Rising Crew Takes On Fury325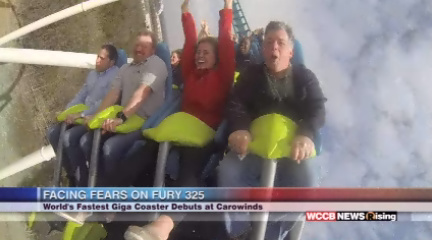 CHARLOTTE, NC — Fury325 was finally debuted at Carowinds, and the Rising crew was there for all of the chills and thrills.
The Fury325 is the newest addition to Carowinds thrill ride line-up and it certainly does not disappoint. At 325ft high and speeds reaching 95mph it is the world's tallest and fastest giga coaster. Thrill seekers from around the world now have their sights set on the Carolinas, and with good reason. 
Check out what the crew thought of the new attraction and see who was brave enough to take it on. You can also see our photo gallery online here.
Carowinds will open for the 2015 season Saturday March 28th and you can check out all of the details here.  Are you brave enough?