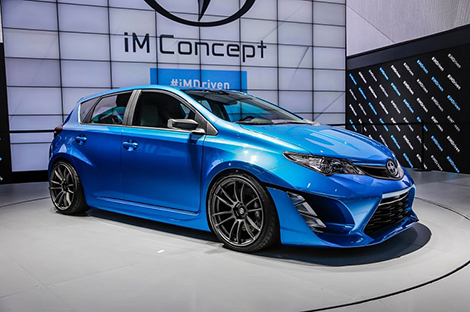 Have you been down to our N Charlotte Scion dealership to check out the current Scion family? These fun and funky cars are chock-full of both innovation and performance, and they appeal to all walks of live to boot. Here are your options at the moment: 
2015 Scion FR-S

2015 Scion iQ 

2015 Scion xB

2015 Scion iQ 
As you can see, we have a new Scion near Charlotte for everyone! However, we have some big news. Two more cars are going to be joining this unique family – the new Scion iM and Scion iA! They'll be introduced at the New York Auto Show on March 31, and will be hitting markets sometime later this year. We've got the initial scoop on these new Scion near Charlotte and what they'll have to offer when they arrive in just about a week! 
Meet these new Scion in just a few days! 
Let's talk about the new Scion iA first. Did you know this is the first sedan that Scion will be introducing onto the market in a long, long time? It's meant to attract N Charlotte Scion drivers who want something that's edgy and unique but still practical and performance-driven. We don't know the big details; Scion has been keeping them under wraps for the time being. However, we do know this new Scion sedan will be versatile and affordable, just like the other members of its family! 
Next up: the Scion iM! Scion did away with the N Charlotte Scion xD this year, but that doesn't mean the hatchback design wasn't working for them. They simply decided to up the ante on their design! The new Scion iM will be a five-door hatchback that's similar in size to the popular Toyota Corolla, making it a roomier and more adaptable option than the former Scion xD. Plus, it'll be sportier than ever when it comes to both style and performance! 
See why our N Charlotte Scion cars are such popular options! 
We can't wait for these new Scion cars in N Charlotte to arrive, so we can offer our customers an even wider variety of vehicles to explore. Scion has been around for over a decade, and they've consistently offered a line of vehicles that aren't just performance-driven and reliable – they're also edgy, stylish, and innovative! 
Scion takes pride in keeping their designs for their cars funky and offbeat (without infringing on aesthetic style or functionality), and our N Charlotte Scion cars all meet the bill. The Scion market has always been geared towards younger drivers (that's why the designs are so modish and the price tags so affordable). However, we're betting that with a stylish new Scion sedan added to the mix, even more drivers will see their appeal! 
Come see for yourself! We've got the entire N Charlotte Scion family at our dealership ready and waiting for you. We're just off I-77 exit 23 – come see us at 13429 Statesville Road! You can call us ahead of time at (888) 883-3797 to schedule your test drive for a hassle-free experience!