50 Union Co. Firefighters Hoping To Keep Their Jobs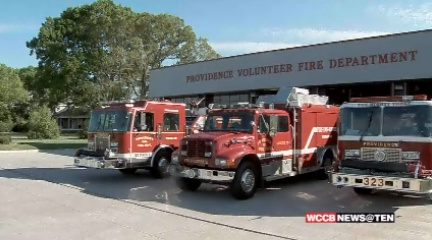 [gtxvideo vid="YDbh37Om" playlist="" pid="Bbt3TRDe" thumb="http://player.gtxcel.com/thumbs/YDbh37Om.jpg" vtitle="prov fire update"]
CHARLOTTE, NC – Nearly 50 firefighters in Union County are holding out hope they can keep their jobs.
The Providence Volunteer Fire Department has been serving Union County for 60 years. 
It's the only fire station in Weddington town limits, and last week, town leaders decided to close it on July 29 to save money.
"Government is ugly. You try to do the best you can, but you're never going to satisfy everybody," said Weddington Mayor Bill Deter.
Deter is not phased by a resolution unanimously passed Monday night by Union County Commissioners. 
"I see no impact. The train has left the station," said Deter.
The resolution has no legal power, but asks the town council to keep the fire station open until next summer.
"The only reason we asked for them to slow it down is to allow for a county-wide solution to be evaluated to see if it has any merit," said Union County Commissioner Frank Aikmus.
Deter says it's a dollar and cents issue. It would cost Weddington about $923,000 to continue contracting with Providence VFD, while the new contract with the Wesley Chapel Fire Department is just under $700,000.
"I cannot walk away, the council cannot walk away, from a $230,000 savings and a $100,000 reduction in our taxes."  
Providence Fire Chief Kenny Schott hopes the resolution will give them a chance to stay. 
"We're not just falling over," said Schott.
In the meantime, the department has cut all expenses, but Schott says he will not make cuts to personnel.
"We're hoping that in the end everything will work out and that we'll be able to stay here. So do many Weddington residents," said Schott.
"Our safety is definitely a risk factor in all of this," said Mary Ann Desimone, a Weddington resident.
Desimone says residents plan to speak at the town council meeting Monday night to keep their fight alive. 
"It's an emotional issue, and people want to vent. And part of our role, myself and the council, is to listen to people vent," said Deter.
"All I can tell you is remember that at the ballot box, because that's really the only opportunity that we have," said Aikmus.