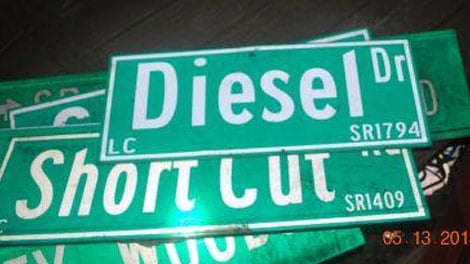 LINCOLNTON, NC– Lincoln County Sheriff's detectives have recovered 35 county road signs stolen from various locations throughout the county.
Investigators say six teenagers have been charged in connection with the theft. 
On May 13, 2015, officers say they received a tip that led them to the home of one of the teens involved. The teen then led officers to a wooded area where signs were hidden under a pile of lumber.
The stolen signs were valued at $3,500 and detectives say they also recovered a Neighborhood Watch Sign and a Speed Limit Sign.
Authorities have charged 18-year-old Bradley Caldwell, 17-year-old James Scott, 17-year-old John Ayers and 16-year-old Seth Mcrorie with misdemeanor larceny.
Two more teens will also be charged in connection with the theft.