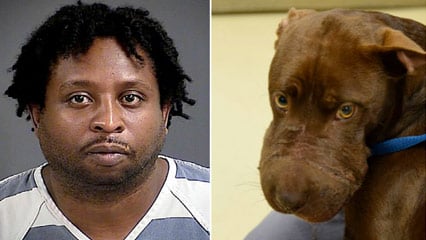 NORTH CHARLESTON, S.C. — Police arrested a man in connection with an animal cruelty case where a dog's muzzle was taped shut.
Investigators say 41-year-old William Dodson wrapped electrical tape around the dog's muzzle causing the dog to have life threatening injuries.
Dodson has been charged with ill treatment of animals.  A large portion of the dog's tongue may have to be removed because the muzzle was taped so tight that the dog lost blood flow in her mouth.
Officials say the dog is doing significantly better after receiving hyperbaric and cold last treatments.  These treatments helped save some of the damaged tissue in her mouth.