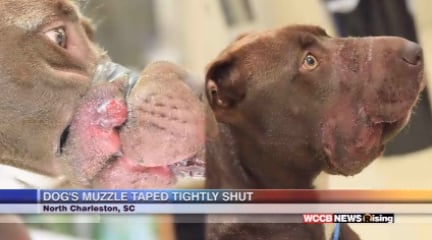 Check out this live broadcast of Caitlyn the dog. Caitlyn is recovering at Veterinary Specialty Care in Mount Pleasant, S.C. after she was found with her muzzle taped shut.

Broadcast live streaming video on Ustream
Police say 41-year-old William Dodson wrapped electrical tape around the dog's muzzle causing the her to have life threatening injuries.
Dodson has been charged with ill treatment of animals.  Caitlyn is doing significantly better after receiving hyperbaric and cold last treatments.  These treatments helped save some of the damaged tissue in her mouth.