Reward for Help in Capturing Inmates Who Escaped in 'Shawshank' Style Breakout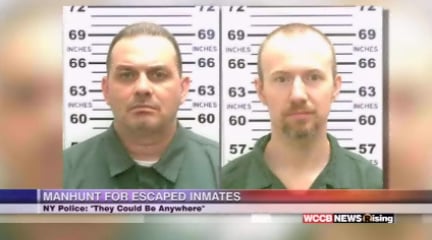 [gtxvideo vid="6k4kUbay" playlist="" pid="Bbt3TRDe" thumb="http://player.gtxcel.com/thumbs/6k4kUbay.jpg" vtitle="Manhunt for escaped prisoners"]
DANNEMORA, N.Y. (AP) — Investigators are looking into whether civilian employees or private contractors helped two murderers obtain the power tools they used to break out of a maximum-security prison near the Canadian border, New York's governor said Monday.
As the manhunt continued for the two inmates, Gov. Andrew Cuomo said during a round of appearances on morning news shows that he would be shocked if a prison guard was involved in the escape from Clinton Correctional Facility in Dannemora.
Officials said David Sweat, 34, and Richard Matt, 48, cut through steel walls at the back of their adjacent cells and sliced through steel pipes while making their "Shawshank Redemption"-style breakout, which guards discovered early Saturday.
Investigators are interviewing hundreds of civilian employees and the contractors who have been doing extensive renovations at the 170-year-old prison, Cuomo said.
"We're going through the civilian employees and private contractors first," he said on NBC's "Today" show. "I'd be shocked if a correction guard was involved in this, but they definitely had help. Otherwise, they couldn't have done this on their own."
A $100,000 reward was posted over the weekend for information leading to men's capture.
Sweat was serving a sentence of life without parole for the 2002 killing of a sheriff's deputy. Matt had been sentenced to 25 years to life for kidnapping, killing and dismembering his former boss in 1997.
"These are killers. They are murderers," the governor said. "They are now on the loose, and our first order of business is apprehending them."
Officials gave no details on how the men managed to avoid detection while cutting their way out. "They had to be heard," Cuomo told ABC's "Good Morning America" on Sunday.
Hundreds of law enforcement officers fanned out around the prison, following up on dozens of tips. Authorities set up roadblocks and brought in bloodhounds and helicopters.
Dubbed "Little Siberia" by locals, the prison houses nearly 3,000 inmates, guarded by about 1,400 officers. Surrounded by farmland and forests, the prison is about a 45-minute drive by car to Montreal.
Cuomo said the inmates may have crossed into Canada, about 20 miles away, or headed to another state or Mexico, where Matt served time for killing a man in 1998.
Prison officials found the inmates' beds stuffed with clothes on Saturday morning in an apparent attempt to fool guards making their rounds. On a cut steam pipe, the prisoners left a taunting note containing a crude caricature of an Asian face and the words "Have a nice day."
Officials said the inmates cut through a steel wall, crawled down a catwalk, broke through a brick wall, cut their way into and out of a steam pipe, and then sliced through the chain and lock on a manhole cover outside the prison. The breakout through the steam pipe reminded many of the 1994 movie "The Shawshank Redemption."
It was the first escape from the maximum-security portion of the prison, which opened in 1845.
Martin Horn, a former New York City correction commissioner and a professor at the John Jay College of Criminal Justice, said the said the two inmates had to "obtain some fairly sophisticated tools," either from the prison, which he said maintains an inventory of its tools – "every pair of scissors, every wrench, every power tool" – or from an outside contractor.
He said many questions remain.
"How long did it take to prepare for the escape? This was not a one-night job," Horn said. "And it raises another question: Why did nobody hear it? Officers should have been aware of it if they had done proper cell searches. How did they hide the hole? They didn't make that hole last night, because there would have been too much noise. And it generates dust and dirt."