Edge on Demand: SUPCO Legalized Same-Sex Marriage Nationwide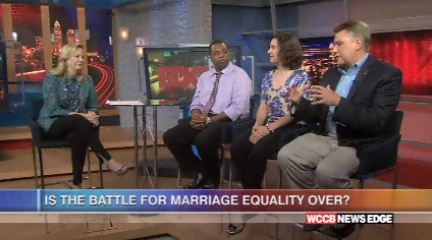 [gtxvideo vid="yVbX7GYP" playlist="" pid="Bbt3TRDe" thumb="http://player.gtxcel.com/thumbs/yVbX7GYP.jpg" vtitle="edge supco"]
 Same-sex marriage is now legal in all 50 state.  The Supreme Court issued its historic opinion Friday, which led to celebrations in Washington and across the country.
The Supreme Court was divided on the issue in a 5-4 split decision.  Justice Anthony Kennedy wrote the majority opinion, saying: "No union is more profound than marriage, for it embodies the highest ideals of love, fidelity, devotion, sacrifice and family… In forming a marital union, two people become something greater than they once were.  They ask for equal dignity in the eyes of the law.  The Constitution grants them that right."
President Obama also spoke out about Friday's ruling, saying: "This ruling will strengthen all of our communities by offering to all loving, same-sex couples the dignity of marriage across this great land."
And that brings us to our Question of the Night: Is the battle for marriage equality over?
Plus:
Buzz City Uniforms: Hot or Not?
Police Officer Fired For Confederate Flag Boxers
Another NC Shark Attack: Are You Hitting the Beach This Year?