The Edgitators: Was Darla Neugebauer Right To Scream At A Child & Her Parents?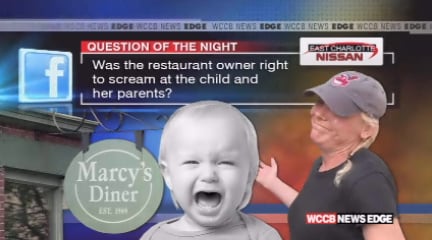 [gtxvideo vid="a54dW62p" playlist="" pid="Bbt3TRDe" thumb="http://player.gtxcel.com/thumbs/a54dW62p.jpg" vtitle="panel diner"]
A diner owner is cooking up some serious controversy after screaming at a toddler to be quiet in her restaurant.  The owner admits she nearly flipped her lid after listening to the child cry for a whole 40 minutes.
"I turned around, slammed both hands on the counter and then pointed at the child and said, 'This has got to stop!'  Oh and then the mother screamed at me because I was yelling at her child.  You know what lady, you should have taken the kid outside," said owner Darla Neugebauer.
The parents were so upset they posted a complaint on the diner's Facebook page, saying: "The owner is an absolute lunatic and screamed in the face of my almost 2 year child because she was crying."
Naturally, this story has become an internet sensation, with some parents saying they'll never eat at that restaurant again.  As for the owner?  She says she could care less, and stands by her decision, saying she didn't do anything wrong.
And that brings us to our Question of the Night: Was the restaurant owner right to scream at the child and her parents?  The Edgitators weigh in…