GOP Presidential Candidates Square Off In First Primary Debate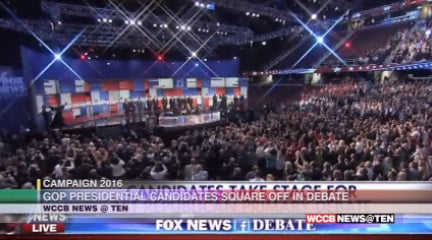 CLEVELAND, OH — The gloves were off Thursday night in Cleveland for the first Republican Presidential primary debate.  The top 10 Republican hopefuls went back and forth over issues ranging from immigration, to Planned Parenthood and the economy.
Earlier Thursday, the seven contenders who didn't poll well enough to make the main stage spent their debate attacking Democratic frontrunner Hillary Clinton.  Donald Trump currently leads the GOP polls.
During Thursday's debate, The Donald said he would not promise to support a GOP nominee, and would consider running as an independent.  
Republican Presidential hopeful Rand Paul is traveling to Rock Hill Friday.  HE will speak to voters at noon at Physician's Choice Laboratory Services on Paragon Way.
The event is free and open to the public.