Panthers, Dolphins to Face Off in First Home Game of Preseason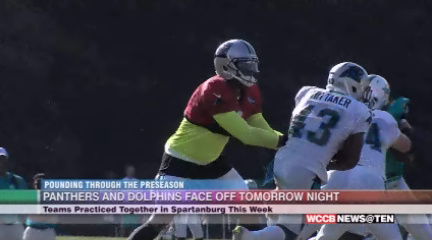 SPARTANBURG, SC — It's the first time since 2000 that the Panthers have hosted an NFL team.  Both squads got a chance to finally hit someone else this training camp.
The Panthers and Dolphins worked together on everything from the two minute drill to goal line plays.  But neither team tipped their hand to exactly what plays they will be running Saturday night.

"Knowing both coordinators on both sides of the ball, I promise you, they didn't show everything," said Panthers head coach Ron Rivera.  "And so, it'll be a little bit of a chess match on Saturday, but, you know, hopefully we can pick up where we left off and have some good work being done, and, you know, guys doing some things they needed to do to improve."