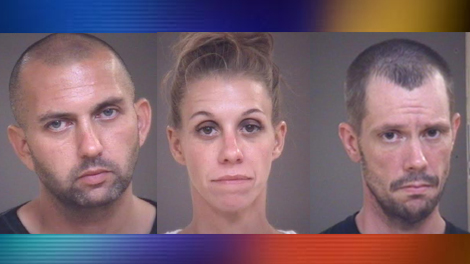 LINCOLNTON, NC — Lincoln County Deputies say they arrested three people on drug charges Wednesday night.
Authorities say information that drugs were being sold led them to a residence on Bill Lynch Road.
When detectives arrived, they reportedly witnessed a man attempting to conceal meth under a couch in the home.
During a search of the residence, investigators say they found small plastic bags and digital scales containing meth residue.
While officers were at the residence two other individuals reportedly arrived in a vehicle.
After consent to search the vehicle, detectives say they found trafficking amounts of prescription pills, meth, marijuana, plastic baggies and cash.
Police charged Jason Lee Self, 33, with felony trafficking opium, possession with intent to manufacture and selling and delivering meth.
Amber Danielle Scism, 32, was charged with felony possession of meth.
Danny Eugene Dean, 36, was charged with possession of meth.