Waiting Child: Nick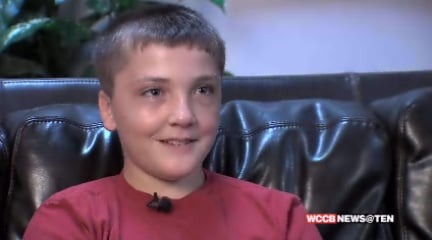 CHARLOTTE N.C.- This week's Waiting Child loves cars and sports.  He cheers for the Panthers and also looks up to one major athlete who lives in Charlotte.
Nick is thirteen years old and going to the 8th grade.  He says he can't wait to join the automotive club at his school.  When he gets older he wants to work on cars, "I'm going to do mechanics on cars and change the brakes and stuff like that."  His all time favorite car is a 1969 Dodge Charger.  He says his first car will be a little newer and of course cheaper, "Well I'm not sure what my budget is going to be but I'm probably going to save up for a mustang or a dodge charger."
Nick's also a huge sports fan.  He cheers for the Carolina Panthers and the Chicago Bulls.  He's a huge fan of Mike Jordan ans says he would scream if he ever met him.
Nick has a bright future ahead of him.  He really wants to share it with a family, "I haven't seen my mom in 8 years and I want to have that bond."  He dreams of a family who will take the time to teach him, care for him and give love, "If you have a family then you can live with them and not have to worry about them sending you away until you're eighteen."
Consider adoption you have the chance to change Nick's life forever.  If you think Nick would be a good fit for your family contact the North Carolina Children's Home Society.